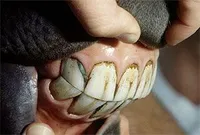 Routine dental care can help your horse maintain their weight, accept the bit more comfortably and live a longer, healthier life. Young horses can have problems when their permanent teeth erupt and may need wolf teeth and caps removed. Older horses also need routine dental care. A recent study showed that over 95% of older horses have dental abnormalities and the same study showed there is a correlation between horse's weight and the longevity of their life.
We utilize a range of oral diagnostic equipment including dental mirrors, specialized equine picks and, when needed, a hand held portable endoscope to clearly evaluate the horses mouth. The lowering of points and correction of other dental abnormalities are most often performed with hand floats and, when needed, by power equipment.
If you have concerns about your horses dentition, please call for a dental exam today- 585-749-9572.
Every full dental evaluation should include a speculum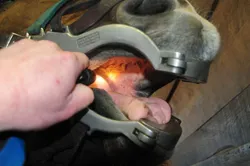 Commonly found ulcerations from sharp points