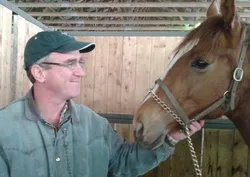 Dr. David Trachtenberg
Dr. David Trachtenberg is a graduate of the Cornell University College of Veterinary Medicine, and is the owner of Trachtenberg Veterinary Associates. Dr. Trachtenberg grew up around horses and learned how to work and train horses in many disciplines, including Western and English Pleasure and Hunter/Jumpers. He eventually concentrated on dressage and trained in Germany through Grand Prix. He worked as a professional rider and trainer throughout college and into veterinary school. In addition, his family bred and raised Arabians and Hanovarians for a number of years.
He has practiced medicine in New York, Pennsylvania and Wellington, Florida as the WEF official show veterinarian. He began his own practice in 1994 as Ledgewood Equine Veterinary Clinic, which developed into a successful multidoctor surgical and medical referral practice.
In 2011, Dr. Trachtenberg decided to change directions and concentrate exclusively on equine ambulatory practice. He founded Trachtenberg Veterinary Associates, an all equine farm based service. He is experienced in lameness evaluations, reproduction and general medicine and has an affinity for dental procedures. Dr. Trachtenberg spends much of his down time with his wife Carolyn, their two children, multiple St. Bernard's, an English Bull Terrier and a small herd of cats.
Debbie McIlhagga, LVT
Debbie has worked with horses as a licensed veterinary technician for many years and her experience ranges from general anesthesia for colic surgery to patient monitoring and vaccination. She also oversees our parasite control program and assists Dr Trachtenberg with his medicine.
In her spare time she enjoys the company of Beasley, her miniature driving horse.
Tracy Scalise
Tracy joined TVA last year as our office manager and is the person you will likely talk to when calling the office. She is a natural fit, having experience working for many years as an office manager for another equine practice.